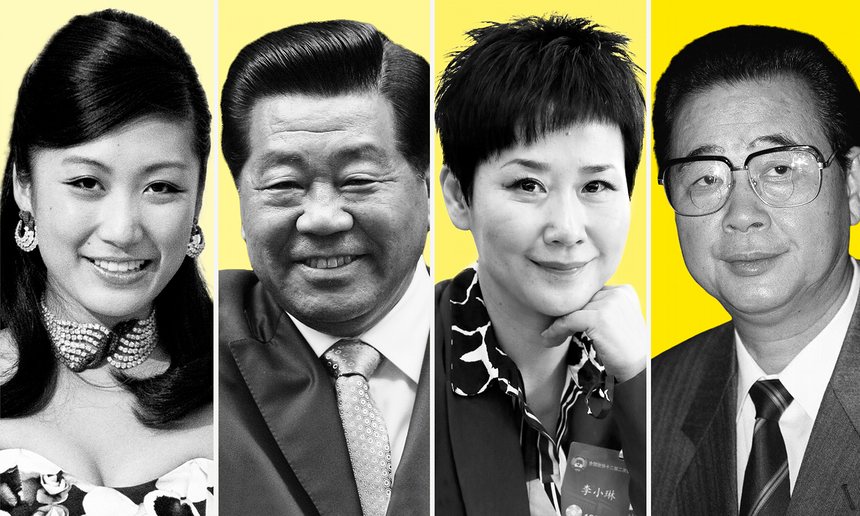 The eight members of China's Communist party elite whose family members used offshore companies are revealed in the Panama Papers.
The documents show the granddaughter of a powerful Chinese leader became the sole shareholder in two British Virgin Islands companies while still a teenager.Jasmine Li had just begun studying at Stanford University in the US when the companies were registered in her name in December 2010. Her grandfather Jia Qinglin was at that time the fourth-ranked politician in China.
Other prominent figures who have taken advantage of offshore companies include the brother-in-law of the president, Xi Jinping, and the son-in-law of Zhang Gaoli, another member of China's top political body, the politburo standing committee. 
They are part of the "red nobility", whose influence extends well beyond politics. Others include the daughter of Li Peng, who oversaw the brutal retaliation against Tiananmen Square protestors; and Gu Kailai, wife of Bo Xilai, the ex-politburo member jailed for life for corruption and power abuses.
The relatives had companies that were clients of the offshore law firm Mossack Fonseca. There is nothing in the documents to suggest that the politicians in question had any beneficial interest in the companies connected to their family members.
Since Monday, China's censors have been blocking access to the unfolding revelations about its most senior political families. There are now reports of censors deleting hundreds of posts on the social networks Sina Weibo and Wechat, and some media organisations including CNN say parts of their websites have been blocked.
The disclosures come amid Xi Jinping's crackdown on behaviour that could embarrass the Communist party.
Two more well-connected figures – the brother of former vice-president Zeng Qinghong and the son of former politburo member Tian Jiyun – are directors of a single offshore company. They have previously been linked in a court case that highlighted how some Chinese "princelings" have used political connections for financial gain.
They have emerged from the internal data of the offshore law firm Mossack Fonseca, obtained by the German newspaper Süddeutsche Zeitung and shared by the International Consortium of Investigative Journalists (ICIJ) in Washington with the Guardian, the BBC and other media.
China and Hong Kong were Mossack Fonseca's biggest sources of business, with clients from these jurisdictions linked to a total of 40,000 companies past and present. About a quarter of these are thought to be live: in 2015, records show the firm was collecting fees for nearly 10,000 companies linked to Hong Kong andChina. The Mossack Fonseca franchise now has offices in eight Chinese cities, according to its website.
There are many legitimate reasons to use offshore companies. Individuals living in multiple jurisdictions find them convenient, and in China they are often used as a way to attract and safeguard investment from overseas. While there is no indication of any wrongdoing, the leaks draw unwelcome attention to the wealth of leaders' families. In some cases, they show how secrecy havens are being used to create and hide potentially lucrative connections between big business and politics in the world's second largest economy.
Even as officials advertise their zeal in targeting corruption by hunting assets overseas and checking on the relatives of officials, they remain highly sensitive to the disclosure of the business interests of top leaders' families.
In 2014, the websites of the Guardian and several other media outlets were blocked for several months after revealing such offshore holdings. Xi's brother-in-law Deng Jiagui and Li's daughter Li Xiaolin were named in those leaks, too. The new documents therefore indicate multiple offshore holdings.
Xi's harsh anti-corruption drive has brought down a host of high-ranking figures. In December, he urged politburo members "to strictly educate and supervise their children and other family members as well as subordinates, and to rectify their problems in a timely manner". He urged members of the 25-strong body to not only have integrity but "stay away from vulgar taste and set good examples for other cadres and the general public". In other words, avoiding wrongdoing is not enough, impressions count, too.
Xi's daughter, Xi Mingze, studied at Harvard but kept a low profile, living under an assumed name. In contrast, Jasmine Li came to public attention when Vogue featured her in a floor-length Carolina Herrera gown at the Hotel de Crillon's annual debutante ball in Paris in 2009. She was presented alongside Lady Kitty Spencer, niece of Princess Diana, and the daughter of Clint Eastwood.
The following year, shortly after beginning a course in international relations at Stanford, she was recorded as the sole shareholder of two entities registered in the British Virgin Islands, Harvest Sun Trading Limited and Xin Sheng Investments Limited. These companies established at least two businesses in Beijing, with a combined registered capital of £200,000, described on the register as specialising in "investment and consulting".
The leaked data reveals Harvest Sun was incorporated in July 2009 and that its first shareholder was someone apparently unconnected to Li: a 57-year-old Hong Kong entrepreneur known as the King of Watches.
Cheung Yu Ping's firm, Hengdeli, is valued at $470m on the Hong Kong stock exchange and is one of the world's biggest sellers of Swiss watches by volume. It supplies pieces by Cartier and TAG Heuer to China's new rich.
In December 2010, Cheung passed his shares in Harvest Sun to Li for just $1. A lawyer for Cheung said the company had contained no assets at the time of transfer. He explained: "Our client had no relationship with Ms Li, who was introduced to our client by some business partners for taking up the company without the need to set up another shell company herself. Our client considered the consideration of the transfer reasonable as the company was only a shell company with no assets inside."
Li did not respond to requests for comment.
Politically exposed persons – or PEPs, public officials, their families and known associates – are considered high risk clients by those providing offshore services. Mossack Fonseca said: "We have duly established policies and procedures to identify and handle those cases where individuals either qualify as PEPs or are related to them … Enhanced due diligence procedures apply in these cases."
Xi Jinping's brother-in-law Deng Jiagui was a shareholder in two BVI companies, Wealth Ming International and Best Effect Enterprises.
Deng appeared on the shareholder registers of both companies in September 2009. They both existed for roughly 18 months before being closed in April 2011 and October 2010 respectively.
The previous leak of offshore documents revealed Deng owned a 50% stake in the BVI-incorporated Excellence Effort Property Development. Ownership of the remainder of the company has been traced back to two Chinese property tycoons.
Deng is married to Xi's older sister, and together they built a fortune through investments in property and natural resources. In 2012, they were reported to hold stakes in companies with total assets of $376m, and an indirect 18% share in a minerals company worth $2bn. Since Xi became president, they have pulled out of many of their investments.
Thanks to his close connection to the centre of Chinese power, Deng qualifies as a PEP. Banks, registered agents and professionals such as lawyers are obliged to carry out detailed checks on the source of funds when managing money for politicians, public officials, their families and close associates.
Deng was the named shareholder and had given the firm his Hong Kong identity papers. But Mossack Fonseca's files did not list him as a PEP, raising questions about whether detailed checks were made on what his offshore vehicles were used for. Deng did not respond to requests for comment.
Zeng Qinghong was China's vice-president until 2008. His younger brother, Zeng Qinghuai, is well known in Hong Kong, having worked there as an envoy for the ministry of culture. He was a consultant to Beginning of the Great Revival, a state-produced propaganda movie which, according to the New York Times, "exemplified the hand-in-glove relationship between business and politics". Government offices and schools were ordered to buy tickets and any criticism was censored. State support ensured it was one of 2011's top grossing films.
The Panama Papers reveal that Zeng Qinghuai is a director of a company called Chinese Cultural Exchange Association Ltd, registered first in the tiny South Pacific island of Niue, then in Samoa. He sits on the board alongside another princeling, Tian Chenggang, son of former vice-premier and politburo member Tian Jiyun.
A 2012 court case, in which Tian Chenggang unsuccessfully sued a developer called Beijing Henderson Properties, shed new light on the business dealings of the red nobility. The court in Hong Kong heard that Tian and a company linked to Zeng had been separately engaged to lobby regulators on behalf of Henderson when it was under investigation for breaching foreign exchange regulations in 2006. An exchange of letters disclosed in court suggested Tian's father had written to the regulators to plead leniency. In the event, the fine imposed was smaller than expected.
Companies linked to Zeng received fees of $2.1m and $650,000. Henderson rejected Tian's demand for $5.5m, so Tian sued for the money but lost. The judge's summing up said of him: "He tried to project an air of superiority … His attitude was contemptuous and disrespectful."
Zeng and Tian did not respond to requests for comment.
Read more