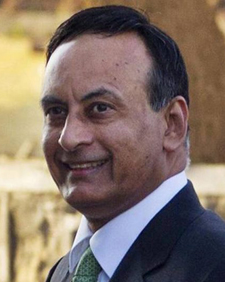 Husain Haqqani
Claiming that there is no pandemic in the country and that Pakistanis should be allowed to celebrate the festival of Eid ul Fitr as they have always done, Pakistan's Supreme Court ordered resumption of train services, other public transport, and opening of shopping centres. This, while Covid-19 cases rose to 43,000 and led to 924 deaths by 19 May.
Pakistan already has more coronavirus cases in proportion to its total population than other countries in South Asia. For comparison, the number of infected individuals in Bangladesh stood at 25,121 and India, which has a population six-times larger than Pakistan, reported 106,475 cases as on 19 May.
The slow and fumbled response of Pakistan's civilian government led by Imran Khan and the Supreme Court's arbitrary intervention have eroded the little remaining constitutional rule in the country. Even amidst the pandemic, Pakistan's establishment is campaigning to do away with the 18th amendment to the constitution that expanded provincial autonomy.
The establishment hopes to reallocate resources away from provincial governments to the central authority because military spending and debt servicing are its main concern.
In days to come, the pandemic is only likely to exacerbate Pakistan's fragilities. Its large and politically intrusive military, and nuclear weapons capability, will not suffice in warding off a massive economic downturn.
Chaotic crisis management
One way of reorienting the economy is to court Western companies that are planning to leave China but Pakistan's strategic outlook makes that difficult.
Prime Minister Imran Khan's federal government was not ready or prepared to deal with this pandemic and initially pretended there was nothing serious to worry about. Pakistan did not evacuate its citizens (primarily students) from Wuhan and flights and movement between hotspots like China – and Iran – were kept open long after the rest of the world had suspended travel.
It took weeks after the first case for the Imran Khan government to announce containment measures, quarantining more than 3,000 travellers from Iran, closing borders with neighbouring countries, imposing international travel restrictions, and putting in place social distancing measures. Most provincial governments made their own rules on lockdown and restrictions in the absence of a national response, further jeopardising Pakistan's fight against the coronavirus.
The government's measures faced resistance from religious groups who do not want any restrictions on religious observations and gatherings. This led to serious consequences. The Tablighi Jamaat, an Islamic fundamentalist group, had their annual gathering during Covid-19, and 20,000 of them had to be subsequently quarantined.
Even before the Supreme Court's intervention, Pakistan allowed congregational prayers in Ramadan, which were suspended in several Muslim countries and at Islam's key holy sites. The Imran Khan government deferred to clerics, creating the likelihood of the virus further spreading during Ramadan.
In addition to empowering the mullahs, the Covid-19 crisis has further diminished civilian rule in Pakistan. Civil-military relations had so far been good under Imran Khan because he was clearly the military's protégé. But now the military is openly taking major decisions, which constitutionally fall within the civilians' domain, doing away even with the pretence of civilian decision-making.
Downward economic spiral
Meanwhile, Pakistan's battered economy is headed for a further crash. The IMF has projected that Pakistan's economy will shrink in 2020, with a negative growth rate of 1.5 per cent. A drastic reduction is also expected in remittances from the Gulf and it is unlikely that investment will increase any time soon.
In end-March, the Imran Khan government announced a relief package of Pakistan Rs 1,200 billion ($5.5 billion) for cash transfers to low-income families, and even for electricity payment relief. But the package did little to deal with the underlying weakness of the economy, including the potential for diminished exports and remittances, and high indebtedness.
In April 2020, to tide over Covid-19, Pakistan requested and obtained from the IMF a loan of $1.4 billion under a Rapid Financing Instrument (RFI). But further borrowing without increased productivity will only aggravate Pakistan's economic predicament. Already low tax collection is likely to fall even further now that taxpayers will have less income because of the coronavirus lockdown.
Beyond national security state
Pakistan could avoid some of these consequences by changing its strategic orientation. Instead of focusing on juggling debt, the government could put forth a bold plan to try and attract American and Japanese companies that are now leaving China. Japan has offered incentives to companies that would relocate production outside China and Pakistan could give incentives for that relocation.
For that to happen, Pakistan would have to mend fences with India and Afghanistan, and redefine itself as something other than a national security state.
But Pakistan's response to Covid-19 shows that the country's establishment prioritises its strategic relationship with China over caring for its own people or dealing with the spread of the coronavirus. Pakistan has already become a centre for conspiracy theories, accusing the US and UK of 'creating' the coronavirus as part of biological and 'chemical' warfare experiments.
Even after the pandemic goes away, the effects of this propaganda will linger, and Pakistan's public would remain anti-Western and pro-China in addition to being sympathetic to Islamist sentiment. That is also a recipe for remaining a national security state dependent on external debt and frequent bailouts.
Husain Haqqani, director for South and Central Asia at the Hudson Institute in Washington D.C., was Pakistan's ambassador to the United States from 2008-11. His books include 'Pakistan Between Mosque and Military,' 'India vs Pakistan: Why Can't we be Friends' and 'Reimagining Pakistan'. Views are personal.